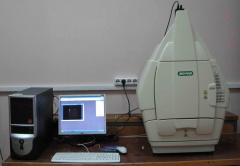 The system of video recording "Molecular Imager Gel Doc XR" manufactured by "Bio-Rad" with transilluminator allows to do a number of operations on obtaining digital images of the experiments' results: from common recording of gels to highly sensitive chemiluminescent detection and registration of with high resolution of 2D gels. The system has a wide range of applications including: detection of nucleic acids, immunoblotting, 2D gel electrophoresis, dot blotting, densitometry, calculation of colonies amount. "Molecular Imager Gel Doc XR" system contains a dark room with switching holder for 5 filters (the yellow one is built-in by default), CCD-video camera, sources of UV and colourless light, printer, control computer with the "Quantity One" software for capture and processing of images. "XcitaBlue" conversional screen for DNA imaging in the set protects DNA samples and the user from UV radiation. Black and white 12 bit (4,096 gray shade) CCD video camera with 1,360х1,024 micron matrix and resolution of 1.4 megapixel. The pixel's size is 4.6х4.6 microns.
A wide dynamic range of video detection covering over three series.
The video camera with automatic mechanized magnification 8.5-51 mm and digital feedback for reproducibility of the recording conditions.
Real time display at the screen for quick positioning and focusing of the sample.
For lighting the resolving UV light, resolving and reflected colourless light are used.
A built-in transilluminator with switching UV radiation of 254, 302 and 365 nm. The transillumination zone is 25х26 cm.
A 5-position holder for emission filters with one of them being built in (yellow one); it is possible to build in additional 4 emission filters on the "as needed" basis.
Program management of the light sources.
The software is compatible with Windows and MAC OS.
The system sizes are: 60х36х96 cm, weight 32 kg.